Sorry for not updating for a while.  We have been super busy lately.  As our sending church told us that we could go back to Japan, we started to visit our Korean friends to say thank you and good bye.  It was so hard since they had become like our family.  God truly blessed our time in Korea and we can't thank Him enough…  We know that it was Him who led us to Korea and we are so thankful that He provided everything we needed.
Here are some examples of how He blessed us while we were in Korea (they are in chronological order).
1.  Eunpyeong Jeil (First) Church in Seoul and Pastor Sim.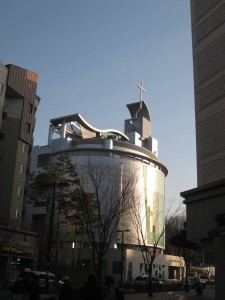 We stayed in their guest room for two weeks.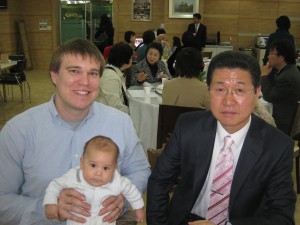 Pastor Sim made sure that we were comfortable and had everything we needed.  We were so thankful for his hospitality!
2. DBU friends who welcomed us warmly.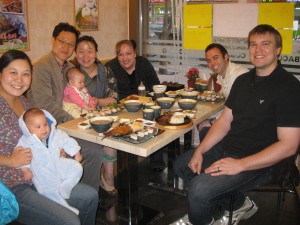 They traveled from other cities to welcome us.  They took us to the cell phone store so that we could buy a phone and also taught us some Korean phrases so that we could survive!  We were so happy to see them several times during our stay in Korea.
3.  Friends from Arlington who came to South Korea to encourage us.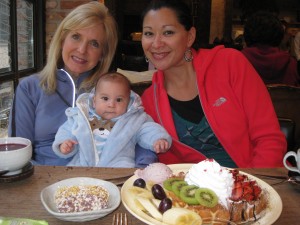 They spoiled us by loving and taking care of Luke ALL the time!  Going on a date (just two of us!) is one of our favorite memories!  We never had to buy any diapers for Luke thanks to their gifts!  Luke misses Aunt Cathie and Aunt Cindy!
4.  Far East Broadcasting Company and Dr. Billy Kim.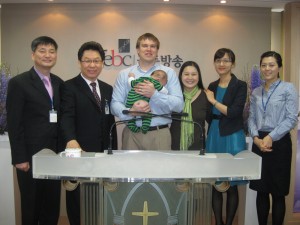 One of the reasons that our sending church selected South Korea (under God's guidance) was because our former pastor, Dr. Wade, knew Dr. Billy Kim, who is a founder of Far East Broadcasting Company.  Dr. Wade asked Dr. Kim to help us find a place to stay in South Korea, and that's how we found Eunpyeong Jeil Church.  While we were in South Korea, we were able to visit their company three times.  We were welcomed by their wonderful staff, and we truly enjoyed getting to know them.  We also had a chance to speak about the needs of Japan and they raised funds for the disaster relief efforts in Sendai.  Words cannot express how thankful we are to receive such special gifts! We will be able to help so many people thanks to their generosity.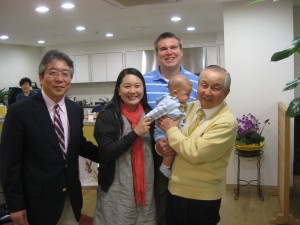 We had an opportunity to meet Dr. Kim and he encouraged us so much.  We are looking forward to seeing him and his staff again!
5.  Grandma Wen and her family.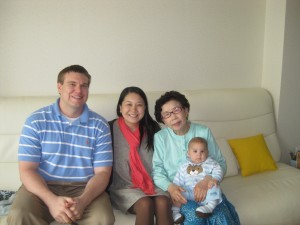 She is a member of Eunpyeong Jeil Church.  When we attended their worship service for the first time, she came to talk to us in Japanese.  She used all the Japanese words that she remembered to help us and to make us feel loved.  The reason why she knows Japanese is because Japan made all the Koreans learn Japanese when they occupied Korea.  As you can imagine, that is such a painful memory for many people.  However, Grandma Wen never said anything negative.  She just told us how much she cares and prays for Japanese people.  We learned about God's forgiveness through her.  She also invited us to her house to feed us and to her great-grandson's 1st birthday party.  As we said good-bye to her, she said "Remember that I am Luke's Korean grandmother.  I will never forget about you all."  We can't wait to tell Luke about her and to take him back to see her again.
6.  April and her wonderful home!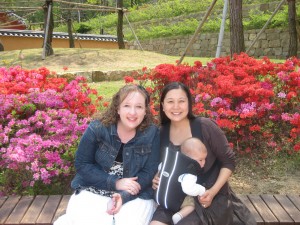 April is Yu's friend from DBU.  She took good care of many international students at DBU and when she found out about the situation in Japan, she wrote us and invited us to South Korea!  Her friendship meant so much to us and we made so many great memories together.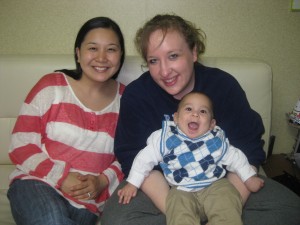 Can't you tell Luke loves her?  She let us stay with her for a month and her apartment became our second home in South Korea!  She taught us how to get to places and we enjoyed exploring around her neighborhood.  We are waiting for her to come visit us in Japan!
7.  Onnuri Church and Young Adult Community Group.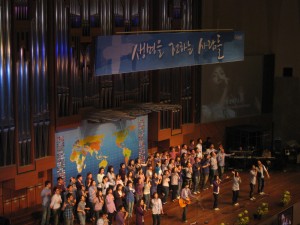 Onnuri Church is one of the biggest churches in South Korea.  They have branches all over the world!  Since April goes there, we attended the young adult worship service with her.  We could see their hearts for God and for the world.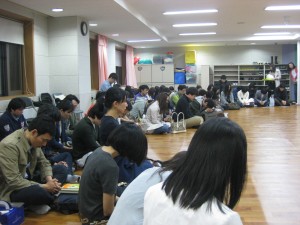 After we shared our stories and prayer requests with the young adult community group, they took time to pray for us and for Japan.  We were encouraged by their powerful prayers. Their church sends several groups to Japan to help with disaster relief efforts, and we are looking forward to working with them in the future.
8. Luke's 100th day!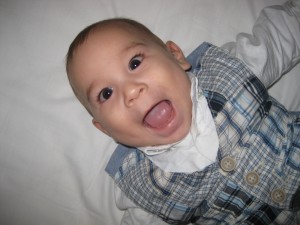 We are so grateful that Luke was healthy during our time in South Korea.  He was such a happy boy and smiled at everyone he met.  Whenever we were tired, we just looked at his cute smile and that gave us strength.  We thank God for Luke's life and we pray God will help us to be godly parents.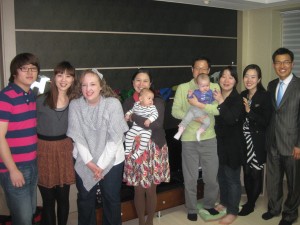 Even though we missed our family in Japan, our friends from DBU made Luke's 100th day VERY special!  We had a party for him and they came to celebrate with us!  They all took turns to hold and entertain him so that his mommy and daddy could relax and enjoy yummy food!  We ended our party with a prayer time and God answered all our prayers in amazing ways.  We can't wait to have another reunion!
9.  Suwon Disciple Baptist Church, Pastor and Mrs. Lee, and Young Adult Group.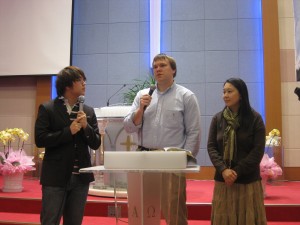 This is a church where our friend's father serves as a pastor.  It was just like our church in Sendai (everyone knows everyone and it's like a family!) and we just loved being there.  They gave us several opportunities to share our hearts for Japan and many people told us they would be praying for Japan.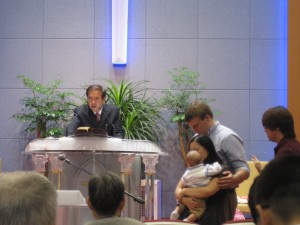 On our last Sunday in South Korea, Pastor Lee led a special prayer time for us.  Mrs. Lee was so sweet to Luke.  We knew he was safe in her arms!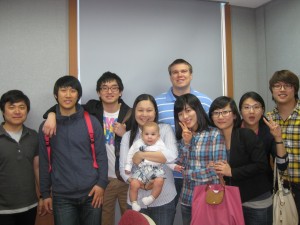 We just fell in love with these young people!  We became good friends so it was difficult to say good bye.  But they promised to take a group to Sendai this year so we know we will get to see them again!  What a blessing it is to be able to pray for each other even though we are far away!
10.  Choi Family and Easter in Daejeon.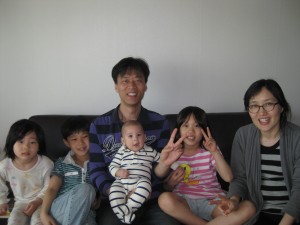 Mr. and Mrs. Choi lived in Sendai and attended Taitomi Church when Yu was in high school.  When they found out that we were in South Korea, they invited us to their house to celebrate Easter with them.  We had a nice visit and Luke had fun playing with their kids!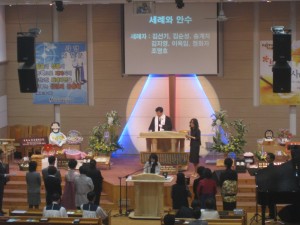 Seven people were baptized on Easter Sunday.  Needless to say, it was an amazing Easter!  Luke even got a Korean traditional egg and he was so happy that he shared it with his parents!
11.  Esther and her mom.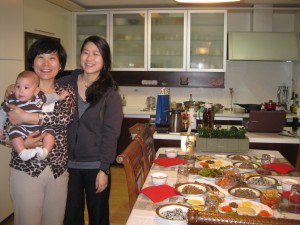 Esther was one of Yu's student assistants at DBU.  She invited us to her home to have dinner.  Can you see all the delicious food that her mom cooked for us?  Everything was SO yummy!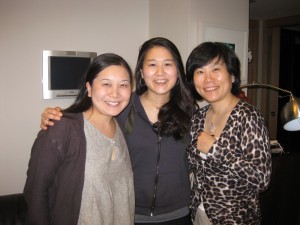 We enjoyed hearing about her memories of DBU and her life in Seoul.  She is preparing to go to the Law School and we know she will do great!
12. Time with Yu's dad.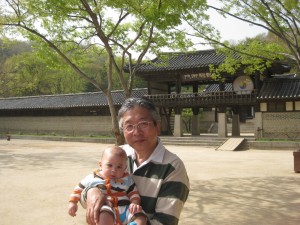 Yu's dad visited us for a week.  Since he had been super busy with disaster relief efforts in Japan, we had hoped that he would be able to relax, but we had something to do every single day!  We were happy that we didn't have to carry Luke everywhere since her dad volunteered to hold him all the time.  We also enjoyed sleeping in while he took care of Luke in the mornings!  Thank God for grandparents!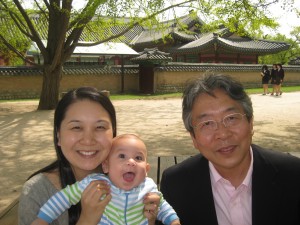 It was nice to spend time with him and to find out what was going on in Japan.  We are so thankful for our friends who helped us by buying food and delivering them to people in the temporary shelters on our behalf.  We look forward to going there to meet and help them in person!
13.  Central Christian Academy in Suwon.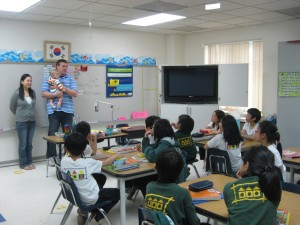 This is where April teaches and the headmaster of this school is Dr. Billy Kim's son.  We had an opportunity to go to a few classes to talk about Japan.  They listened so well and told us that they had been praying for Japanese people.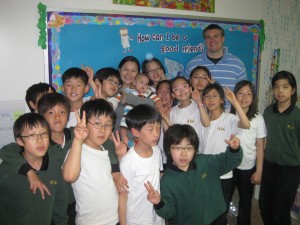 Praise God for children who love and care about those in need.  We hope to tell Japanese children that someone they don't even know is praying for them and we pray that they will feel God's love.
14. LOTS of family time!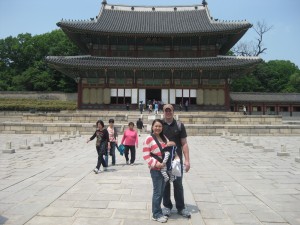 We were supposed to start our new ministries in April, and everything changed after March 11th.  At times, we were discouraged since we were looking forward to our new journey.  However, God gave us another journey to take.   Instead of being busy trying to figure out what to do, God gave us time to reflect on our lives and enjoy our time as a family of three.  He also gave us time to reunite with our old friends and to make new ones.  We know everything was in God's plan and we give thanks to Him.  Our experiences in South Korea will be something that we will always treasure.  We can't wait to tell Luke Kai where he has been and whom he has met.  We want to say a huge "THANK YOU" to everyone who made our time in Korea so wonderful!   We pray God will give us a chance to see you again.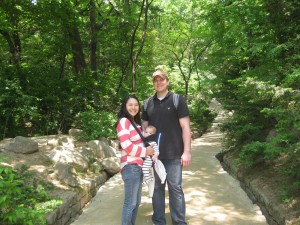 We also want to say thank you to those who prayed for us from all over the world!  Your prayers meant so much to us.  Thanks to your prayers, we were able to come back to Japan safely.  We are happy to be back, but there is still so much on our mind.   There are so many needs here and it is overwhelming.  We are also doing everything we can to keep our son safe.  We are trying to process everything and prepare for what God has for us next.  We don't know where this new journey leads us, but we trust that He will guide us wherever we go.  Thank you for taking this journey with us!  We love you all!